The recall of Hotpoint and Indesit washing machines will start on 9 January, according to owner Whirlpool.
Owners of the affected machines who register on a dedicated website will be asked from that date whether they want a repair or a replacement.
Whirlpool has been forced to recall about 500,000 appliances after it was discovered some were a fire risk.
However, customers were unable to check the safety of their machines online because of technical difficulties.
Half a million appliances need to be fixed or replaced as the door locking system can overheat.
Whirlpool said it had recorded 79 incidents in which washing machines had caught fire because of the electronic door.
Whirlpool has been criticised for the chaotic way in which the programme was launched.
The company revealed on Tuesday that more than half a million washing machines built between 2014 and 2018 would have to be recalled because of a fire risk.
But the special recall website crashed immediately and only got back up and running on Wednesday afternoon.
At the same time, customers have been struggling to get through to the company's helpline.
'Not acceptable'
Whirlpool's vice president of communications and public affairs, Jeff Noel, said: "It has been an unfortunate situation. It is not the way that any of us would want to start a recall, especially something so important during the holidays.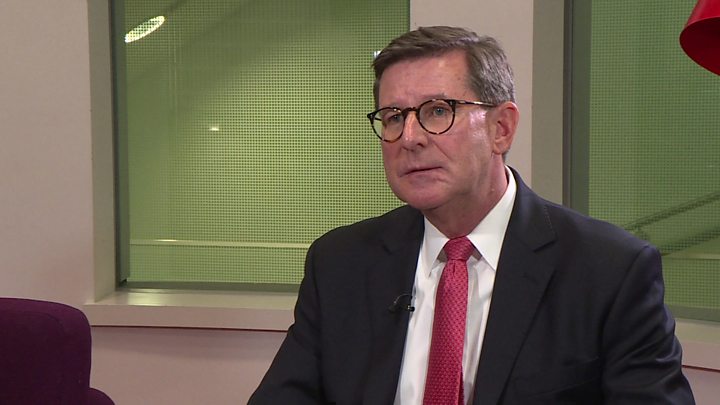 "But it is such that we have done everything we can to resolve it. We've done everything we can to improve and I'm proud to say that these folks that have worked so hard, that we are up and running."
However, Alex Acteson from Chichester in West Sussex says that she has phoned Whirlpool's helpline nearly 40 times on behalf of her elderly mother, Chris, only to be hung up on, left on hold for 25 minutes or told that the telephone number does not exist.
Ms Acteson said: "We couldn't actually get on to the website but luckily my partner found a list of the washing machines that are affected and we found that my Mum's washing machine was on it."
She said that her mother, who is in her seventies, had a stroke two years ago, adding: "She doesn't need to be worried about this over Christmas and due to the fact that she has had a stroke, things like this do worry her more than your average person.
"It is just not acceptable by Whirlpool."
Whirlpool was already reeling after problems with fire-prone dryers.
It was heavily criticised for its initial response when more than five million tumble dryers, sold over 11 years, were found to be a fire danger. It only launched a full recall for that issue after four years, following an intervention by the regulator.
The affected washing machine models are:
FML 742P UK Hotpoint, WMAOD 743G UK Hotpoint, WMAOD 743P UK Hotpoint, WMAQB 721P UK.M Hotpoint, WMAQC 641P UK.M Hotpoint, WMAQC 741G UK Hotpoint, WMAQC 741P UK Hotpoint, WMAQC 741P UK.M Hotpoint, WMAQF 621G UK Hotpoint, WMAQF 621P UK Hotpoint, WMAQF 641 P UK.M Hotpoint, WMAQF 721G UK Hotpoint, WMAQF 721P UK.M Hotpoint, WMAQL 621G UK Hotpoint, WMBF 742G UK Hotpoint, WMBF 742K UK Hotpoint, WMBF 742P UK Hotpoint, WMBF 742P UK.M Hotpoint, WMBF 763P UK Hotpoint, WMEF 722 BC UK Hotpoint, WMEF 742 P UK Hotpoint, WMEUF 722P UK Hotpoint, WMEUF 743G UK Hotpoint, WMEUF 743P UK Hotpoint, WMFG 741P UK Hotpoint, WMFG 741P UK.M Hotpoint, WMFUG 742 P UK.M Hotpoint, WMFUG 742G UK Hotpoint, WMFUG 742P UK Hotpoint, WMFUG 842P UK.M Hotpoint, WMJLF 842P UK Hotpoint, WMJLL 742P UK Hotpoint, WMSAQG 621P UK Hotpoint, WMXTF 742G UK Hotpoint, WMXTF 742K UK Hotpoint, WMXTF 742P UK Hotpoint, WMXTF 742P UK.M Hotpoint, WMXTF 842P UK.M Hotpoint, WMYL 7151PS UK Hotpoint. XWA 81252X K UK Indesit, XWA 81252X W UK Indesit, XWD 71452X K UK Indesit 171418.