A garage wall bearing Banksy's artwork has been given a police escort through Port Talbot to its new home in a gallery.
The venue's owner John Brandler paid a six-figure sum for Season's Greetings, which appeared on the walls of Ian Lewis's garage in December.
After months of planning, engineers used a crane to lift the 4.5 tonne mural on to a lorry in front of crowds.
It has since arrived in one piece at the town's Ty'r Orsaf building.
Mr Lewis found owning such a famous Banksy stressful and although glad to see it gone, he said he was "proud" of the outcome.
"It's been life changing," he said, reflecting on the past six months.
"It's been a real mix – it's been a pleasure, it's been a pain, it's been exciting, it's been stressful."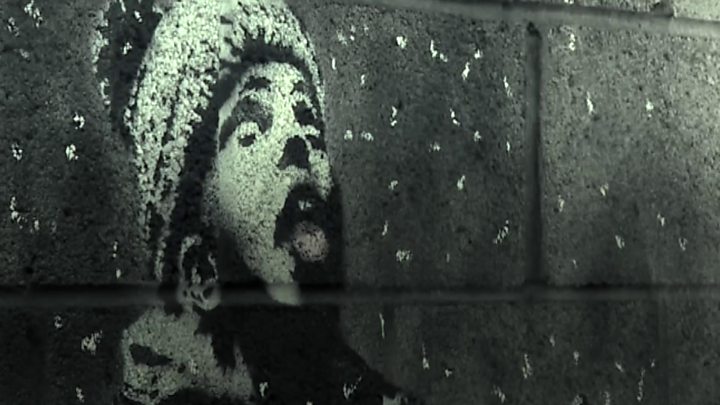 Mr Brandler said he had not been too nervous about the move, adding: "I saw the video of them moving the replica wall and once I saw that, I relaxed."
Speaking before the piece arrived, he said: "The nerves are going to be this afternoon when we unwrap it because anything could have happened and we don't know because it's covered up.
"When they take the front off, that's the bit I'm going to be nervous."
The image appeared on two sides of the garage in the shadow of the town's steel works, one depicting a child enjoying snow falling, the other side revealing it was a bin fire emitting ash.
"Whether you are for or against the steel works here, and personally I worked there for 28 years, I think people from Port Talbot feel passionate about the Banksy," Mr Lewis added.
"I don't think I'll miss it, but I probably will pop in and visit it."
The artwork has been protected by plastic sheeting and 24-hour security since it appeared.
In preparation for the move, the piece was covered in resin to help prevent the wall from crumbling.
Bits of chipboard were fixed to the back and then it was put in a crate, "a bit like a sandwich", Mr Brandler said.
Essex-based Mr Brandler said he was confident the move would go to plan, but realised people would be watching closely for any disasters or further stunts by the artist.
"If anything goes wrong, yes it's going to make it 100 times more famous, but [Banksy] has already done that stunt," said Mr Brandler, referring to an artwork that self-destructed after auction.
Mr Brandler said he believed the mural was capable of attracting up to 150,000 visitors to the town each year and he was committed to keeping it in Port Talbot.
"Before, when you looked over at the artwork you were seeing the pollution coming out of the chimneys behind us – that's why it belongs here," he said.
"It wouldn't look the same in the Tate gallery, or a gallery in Mayfair, or New York or Paris. I felt it belonged here."