Pop stars paid tribute to the victims of the Manchester Arena bombing from the venue's stage, two years on.
Dedicating hit "Stay" to the victims and their families, South Korean pop band Blackpink said their "hearts ache for those who lost their loved ones".
Twenty-two people died and hundreds were injured in the 2017 suicide bombing as Ariana Grande finished performing on the same stage.
On Twitter, #OneLoveManchester and #ManchesterRemembers were trending.
Ariana Grande posted a bee emoji in her Instagram stories, with no words.
Her mother Joan Grande said Manchester is "with me always, in my heart and in my mind".
An invitation-only memorial service was held at St Ann's Church for families and emergency services.
The church is in St Ann's Square, which became a focal point for tributes immediately after the bombing.
Canon Nigel Ashworth told the congregation: "In the face of violence and hatred, we offer solidarity and compassion.
"None of us ever want to see anything like the arena attack ever again, but neither do we want to forget those who died and those who were injured."
Photographs of each of the 22 victims were shown, while music was played by members of Chetham's School of Music.
There was a poignant performance of Fleetwood Mac's Songbird and Elaine Inglesby, chief nurse at Salford Royal NHS Foundation Trust, read Siegfried Sassoon's poem Idyll.
A minute's silence was held halfway through the service which was also observed by hundreds of people in St Ann's Square and others across the city.
Representatives of the Hindu, Muslim, Sikh and Methodist faiths also led prayers of intercession, saying: "We are all one."
Outside the church, Anya Dawson, who performs with the Manchester Survivors Choir, said the group had "become my new family".
Handmade hearts have been left across the city centre for people to take with them on the anniversary and to "make many people smile".
Floral tributes have also been left at St Ann's Square and Manchester Victoria station.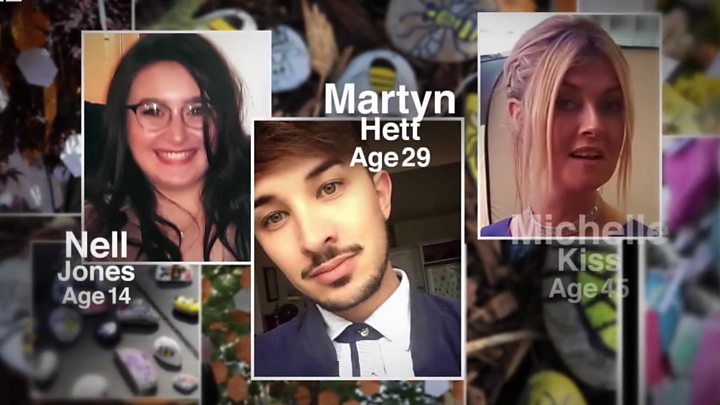 Last year, a larger service was held at Manchester Cathedral, attended by Prince William and Prime Minister Theresa May, with crowds gathered outside to watch on large screens.
A Manchester City Council spokesman said this year's anniversary would be marked with a "more intimate" commemoration.
Manchester Cathedral is also open throughout the day for people to "spend some time in quiet reflection and prayer".
Suicide bomber Salman Abedi, 22, detonated a device at the end of the concert at the arena as children and adults began leaving the venue.
On Wednesday at the exact moment of the blast – 22:31 – bells will again peal across the city centre.
At the scene
By Lauren Hirst, BBC News
Love filled the air in the heart of Manchester on an emotional day for the city.
In St Ann's Square, colourful, handmade hearts – many decorated with the iconic Manchester bee – adorned the buildings, trees and fences.
This kindhearted act is the latest united show of solidarity and strength in memory of the victims and the many more lives that were affected on that tragic day two years ago.
The hand-crafted hearts can be found across the city to help put a smile on a stranger's face. Passers-by are encouraged to pick a heart and take the tribute home
An incredibly heartwarming sight on a day Manchester will never forget.
Figen Murray, whose son Martyn Hett, 29, died in the atrocity, has been lobbying the government to make tougher security checks mandatory at large events.
She has also been visiting schools to speak to pupils about her experiences.
"I talk to them about kindness, tolerance and forgiveness and the dangers of radicalisation," she said.
Martin Hett's brother Dan thanked people for their tributes on the anniversary.
The parents of victims Chloe Rutherford, 17, and Liam Curry, 19, from South Shields in Tyneside, said they would be marking the occasion privately.
They have raised £300,000 to help aspiring performers and sportsmen and women.
Liam's mother Caroline said she was determined to "make sure he hasn't left this world without making a mark".
About 14,000 people were at the arena on the night of the bombing.
More than 3,500 people have had psychological support in the wake of the attack.
Tara O'Neil, from Flixton, who was at the Ariana Grande concert that night, survived the attack and was diagnosed with post-traumatic stress disorder, which has led her to leave her job.
She said: "You feel guilty. That you ran and you didn't stop, but you would have got trampled."
Joyce Tewen, from Ardwick, said she was moved to see members of the public picking up handmade decorations earlier in St Ann's Square to "help people smile".
The 45-year-old, who has three children aged seven to 20, said it was a "beautiful" way to mark the anniversary.
"I've taken a photo of all the hearts so I can show my children as it's important that they understand what happened," she said.
PC Pete Baldwin, from Greater Manchester Police, said he would be wearing his heart decoration with pride as he patrolled the city centre.
"I was working on the day and finished at 22:00 but like many of my colleagues we worked every day from then on in," he said.
"The way Manchester responded doesn't surprise me. Greater Manchester is a wonderful place full of wonderful people."
Alexander McBurney, 48, travelled into the city centre from Heywood to pay tribute to those affected by the terror attack.
He said: "I can't think of a community or city that has come together as much as Manchester. It's outstanding."
In Blackpool, a statue was unveiled in memory of Jane Tweddle who died in the bombing.
Buildings in Liverpool will also light up in orange for 24 hours in tribute to Megan Hurley, the city's mayor Joe Anderson said.