There is a "very long way to go" before maternity services at Cwm Taf health board can be declared safe, an independent review panel has said.
The panel was appointed after a damning review earlier this year prompted by the death of a number of babies.
It also revealed it would review more than 100 extra cases between 2016 and 2018 where it believed lessons could be learnt, although not all were serious.
However, it said the health board was beginning to make improvements.
Health Minister Vaughan Gething said there was "clearly still a considerable way to go" to address the problems.
Chrystie Jenkins, 33, who lost three babies at Prince Charles Hospital in Merthyr Tydfil, said: "It doesn't make a difference whether they change things in the trust and they've got the perfect staff that do the perfect job.
"It's never going to take away or heal any of the pain any of us are going through. It's just something that can't be reversed."
On Monday she went to a meeting held by the panel in advance of the update report being published, along with other families.
"There was a lot of anger, mainly around obviously the care and the way they were treated by the staff," she said.
"But I think with the stories that came out from everyone, I think it was just pure shock in the room more than anger. Some of the stories being spoken about hadn't even been identified or investigated."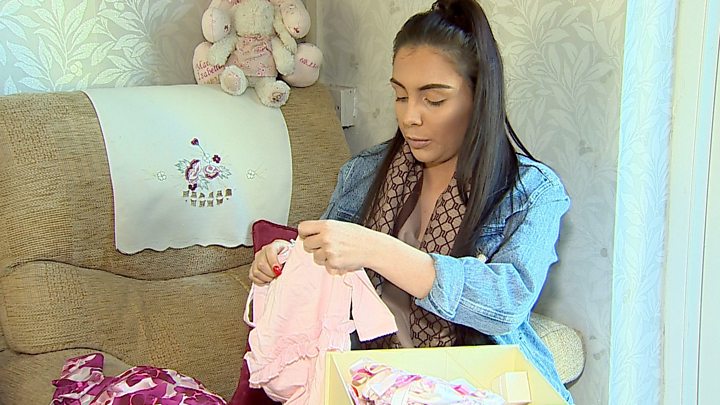 In April, the review led by the Royal College of Gynaecologists unearthed a catalogue of serious failings and highlighted many distressing examples of where mothers and babies had likely been harmed as a result of poor care.
It uncovered failings at the Royal Glamorgan Hospital in Llantrisant, Rhondda Cynon Taff, and Prince Charles Hospital in Merthyr Tydfil.
Overall maternity services were described as "dysfunctional" and way below acceptable standards.
Along with placing the area's maternity services into special measures, Mr Gething appointed the independent panel, chaired by the former chief constable of Gwent Police, Mick Gianassi, to oversee changes.
The panel has also said:
After a slow start the health board is now beginning to make progress, but there is a significant amount of work still to be done and the pace of progress needs to be increased
There is a better understanding of the underlying causes of poor performance, but much of the work to address the problems in the department and organisation is is still in the early planning stages
There are still significant gaps in the health board's capacity to manage complaints and concerns from patient and families, which must be addressed to make progress. Specifically, the team is overburdened because of a growing number of complaints since issues came to light. That has resulted in unresolved cases awaiting investigation, with increasing response times, which has led to an "irrevocable breakdown in trust" in some cases and there must be "urgent action on this"
While there are early signs behaviours may be improving, feedback from staff and patients suggests "there remains a need to change the underlying culture and values so shockingly revealed in the Listening to Women and Families report" – the supplementary report highlighting patient testimony which was published at same time as Royal College of Gynaecologists' review
The panel found eight out of 11 urgent safety recommendations made by the Royal College of Gynaecologists had been addressed, but three were still being worked on:
A review of safe midwifery staffing levels is ongoing, but interim numbers have been agreed by the Welsh Government and are being monitored
Staff awareness of "guidelines and protocols" is much improved, however, the "health board [is] not fully assured" they are "routinely being applied in practice by every member of staff"
The panel said it was unrealistic to expect longstanding issues related to culture, attitudes and behaviours to be addressed within a few months and there was still a long way to go, but surveys of women's experiences were showing improvements in satisfaction levels
The health board originally looked at 43 potentially serious incidents between 2016 and 2018 as part of its own internal review after concerns about standards of care first emerged.
After taking over responsibility of reviewing cases, the independent panel has said about 150 cases during this period will be looked at to establish what lessons can be learnt, although it stressed these cases were not all serious incidents.
All women and families will be given opportunity to contribute.
The panel is yet to decide how many more cases on top of these it might need to look at as part of a review – stretching as far back as 2010.
In conclusion the panel said: "Whilst there are encouraging signs of progress and the foundations for improvement are now largely in place, it is too early to provide the assurance which the minister and the women and families of the former Cwm Taf need in order to be confident that all necessary improvements have been achieved to ensure safe, effective, patient-centred, responsive, well managed and well-led services."
Mr Gething acknowledged the problems still facing the health board, but said it was reassuring the panel's engagement work with women, families and staff continued "to move at pace".
He added: "I am encouraged by the way in which they have accepted the need to make sustainable, organisational wide change which puts quality, safety and patient experience at the heart of all that they do."