Netflix is in the midst of rolling out a slew of Oscar contenders. Last week, the service debuted Martin Scorsese's "The Irishman." Later this month, the Anthony Hopkins-starring "The Two Popes" will join. And this week, Noah Baumbach's "Marriage Story" debuts.
"Marriage Story" stars Adam Driver and Scarlett Johansson as parents going through a divorce, partially because of diverging career paths. Academy Award predictions tend to say this is a lock for a "Best Picture" nomination, and it also has a strong chance in other big categories such as acting, directing and original screenwriting. Read more about the movie and watch the trailer below.
A Christmas movie also debuts on Netflix this week with "A Christmas Prince: The Royal Baby." This romantic comedy is a three-quel, following "A Christmas Prince" and "A Christmas Prince: The Royal Wedding." Hopefully, this new one will be even more Christmasier than the last.
And if you want to stay informed of everything joining Netflix on a weekly basis, subscribe to the Streamline newsletter.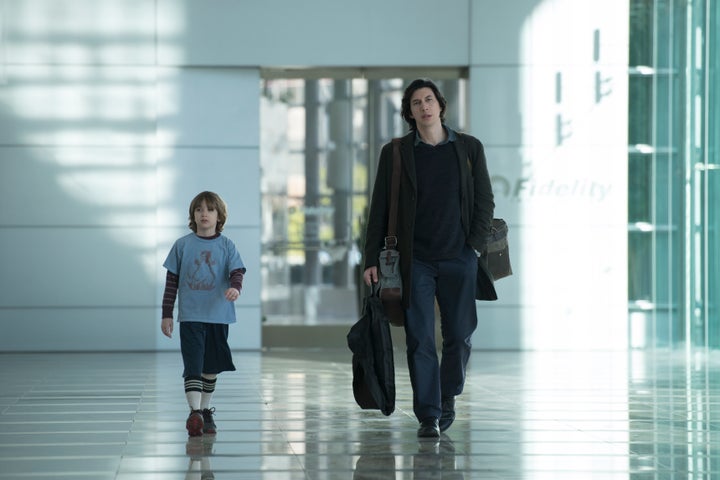 Details: Screenwriter and director Baumbach loosely based this drama on the dissolution of his own marriage to actress Jennifer Jason Leigh. In this movie, a stage director and an actor have a young son and a strained marriage. The actor works a lead role in the director's New York City play, but she decides to take a different, unrelated role in Los Angeles. The long distance becomes a final straw and leads to a divorce.
"Marriage Story" runs 2 hours, 16 minutes.
Driver and Johansson star. Alan Alda, Laura Dern, Ray Liotta and Merritt Wever also appear. Baumbach wrote and directed.
Read on: Baumbach spoke to The New York Times to promote the movie. Reporter Reggie Ugwu started the Q&A with a question about how Baumbach approached mining his own life for this script:
Can you elaborate on what you see as the difference between autobiographical and personal?

I think when people say autobiographical, they're assuming it's one-to-one, which none of my movies are in the slightest. I might use autobiographical details at times, but any extrapolation beyond that has no meaning to the work or to me or anything else.
The Full List Of Movies Joining Netflix
"Dead Kids" (Netflix Film)
"A Cinderella Story: Christmas Wish"
"The Adventures of Sharkboy and Lavagirl"
"Austin Powers in Goldmember"
"Austin Powers: International Man of Mystery"
"Austin Powers: The Spy Who Shagged Me"
"Cut Bank"
"Malcolm X"
"Searching for Sugar Man"
"Sweet Virginia"
"The Tribes of Palos Verdes"
"Especial de Natal Porta dos Fundos: A Primeira Tentação de Cristo" (Netflix Film)
"War on Everyone"
"Let's Dance" (Netflix Film)
"A Christmas Prince: The Royal Baby" (Netflix Film)
"The Confession Killer" (Netflix Documentary)
"Marriage Story" (Netflix Film)
");
if ( "replace" === "insertBefore" || "replace" === "replace" ) {
$yahooDiv.insertBefore(".js-bottom-most-shared .card.recirc__item:eq(1)");
if ( "replace" === "replace" ) {
window.__yahooFlurry.addToCleanup("50b9b9b4-1f4f-4c41-94e8-dc7e6dd30814", "polar-gemini-most-shared", $(".js-bottom-most-shared .card.recirc__item:eq(1)")[0].outerHTML);
$(".js-bottom-most-shared .card.recirc__item:eq(1)").remove();
}
} else {
$yahooDiv.insertAfter(".js-bottom-most-shared .card.recirc__item:eq(1)");
}
window.__yahooFlurry.ready("50b9b9b4-1f4f-4c41-94e8-dc7e6dd30814");
});

");
if ( "replace" === "insertBefore" || "replace" === "replace" ) {
$yahooDiv.insertBefore(".js-bottom-trending .card.recirc__item:eq(1)");
if ( "replace" === "replace" ) {
window.__yahooFlurry.addToCleanup("2e63d6ca-115c-4d45-8b46-bdb10c4f0a97", "polar-gemini-whats-hot-2", $(".js-bottom-trending .card.recirc__item:eq(1)")[0].outerHTML);
$(".js-bottom-trending .card.recirc__item:eq(1)").remove();
}
} else {
$yahooDiv.insertAfter(".js-bottom-trending .card.recirc__item:eq(1)");
}
window.__yahooFlurry.ready("2e63d6ca-115c-4d45-8b46-bdb10c4f0a97");
});