With the never-stopping news cycle, it's easy to miss great images that fly under the radar. We've got you covered.
We're highlighting exceptional photos from around the world for the week of Nov. 9 to 15. Check them out below. 
ABOVE: Ice needles cover autumnally colored leaves still hanging on a branch on Nov. 11, 2019, in Marktoberdorf, southern Germany. (Credit: Karl-Josef Hildenbrand/Getty Images.)
The planet Mercury is seen in silhouette (low center) as it transits across the face of the sun on Nov. 11, 2019. Mercury's last transit was in 2016; the next won't occur until 2032.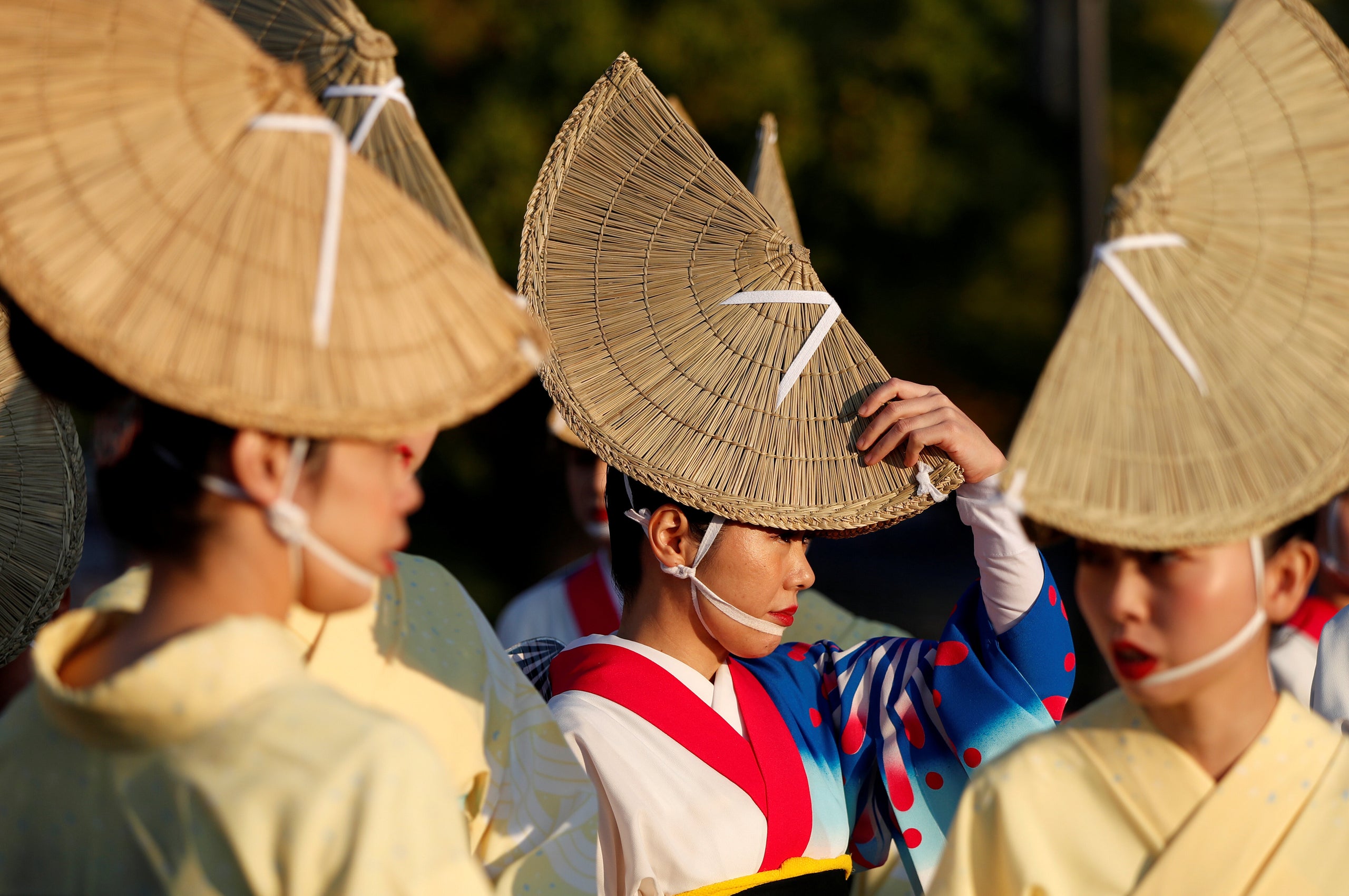 Dancers from Tokyo wearing traditional costumes perform during a celebration event on Nov. 9, 2019, a day before Japan's Emperor Naruhito and Empress Masako's royal parade in front of the Imperial Palace in Tokyo.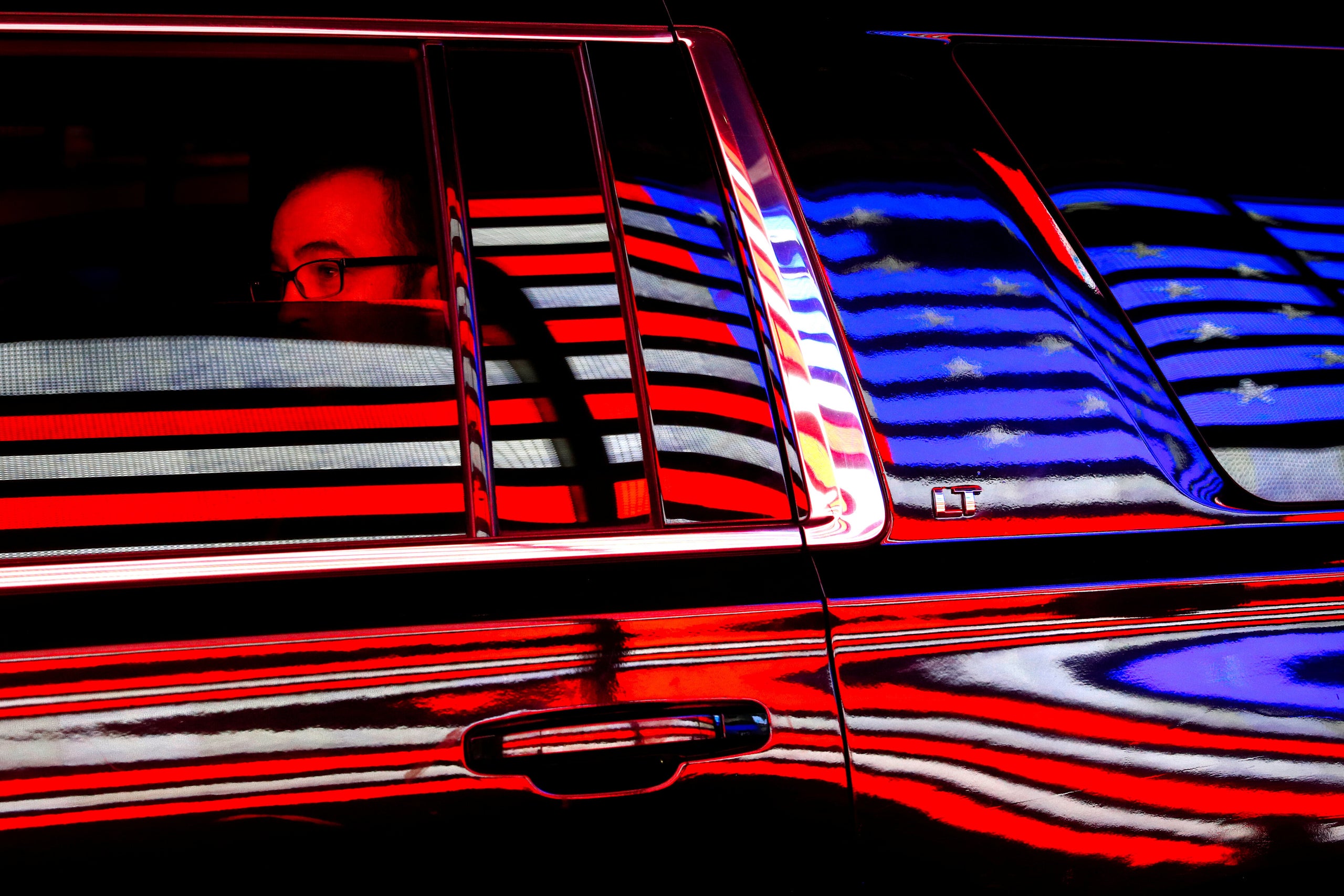 A taxi cab passenger looks out the driver's side window while passing through Times Square, following the Veterans Day Parade in Manhattan on Nov. 11, 2019.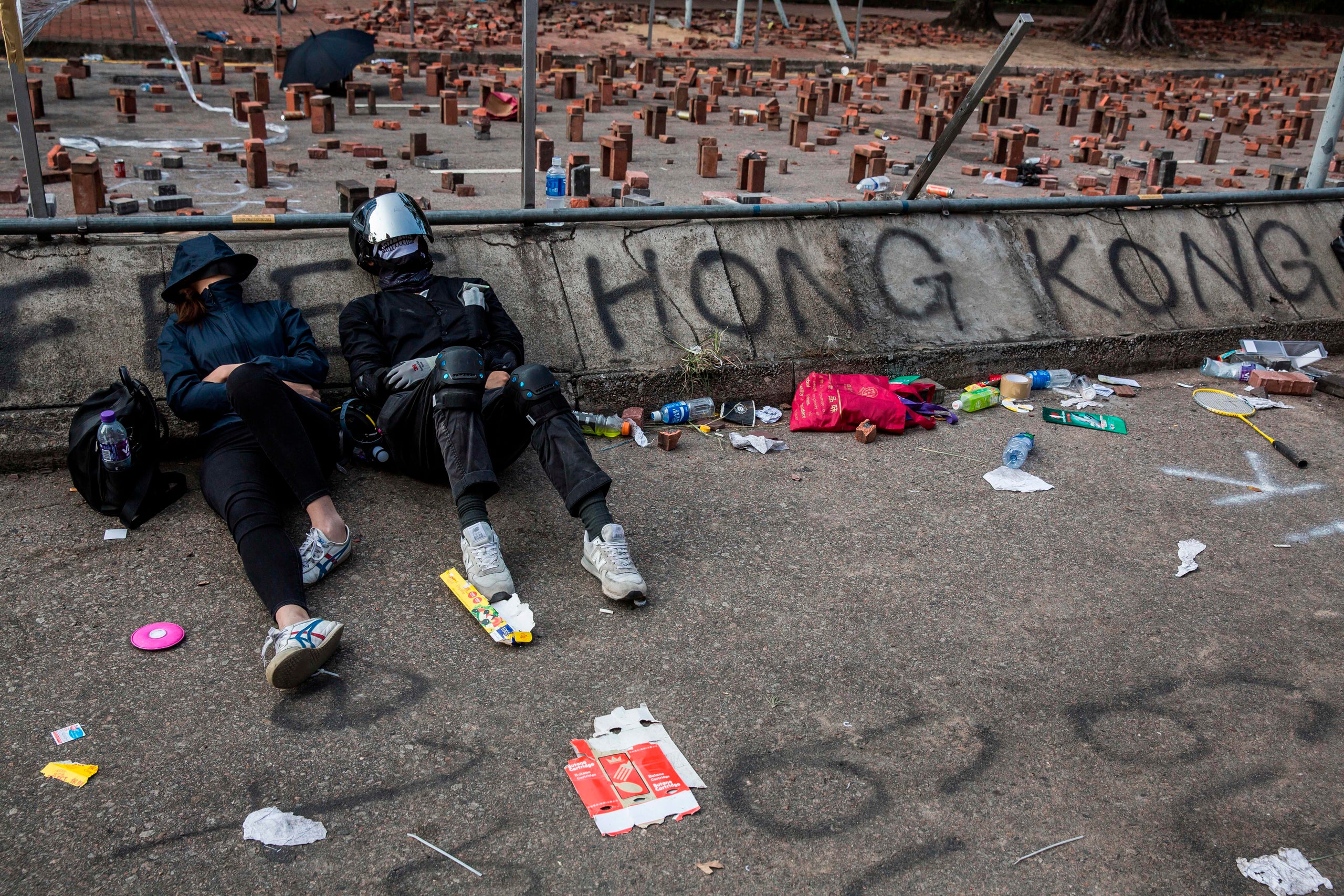 Protesters sleep on a barricaded street outside the Hong Kong Polytechnic University on Nov. 15, 2019.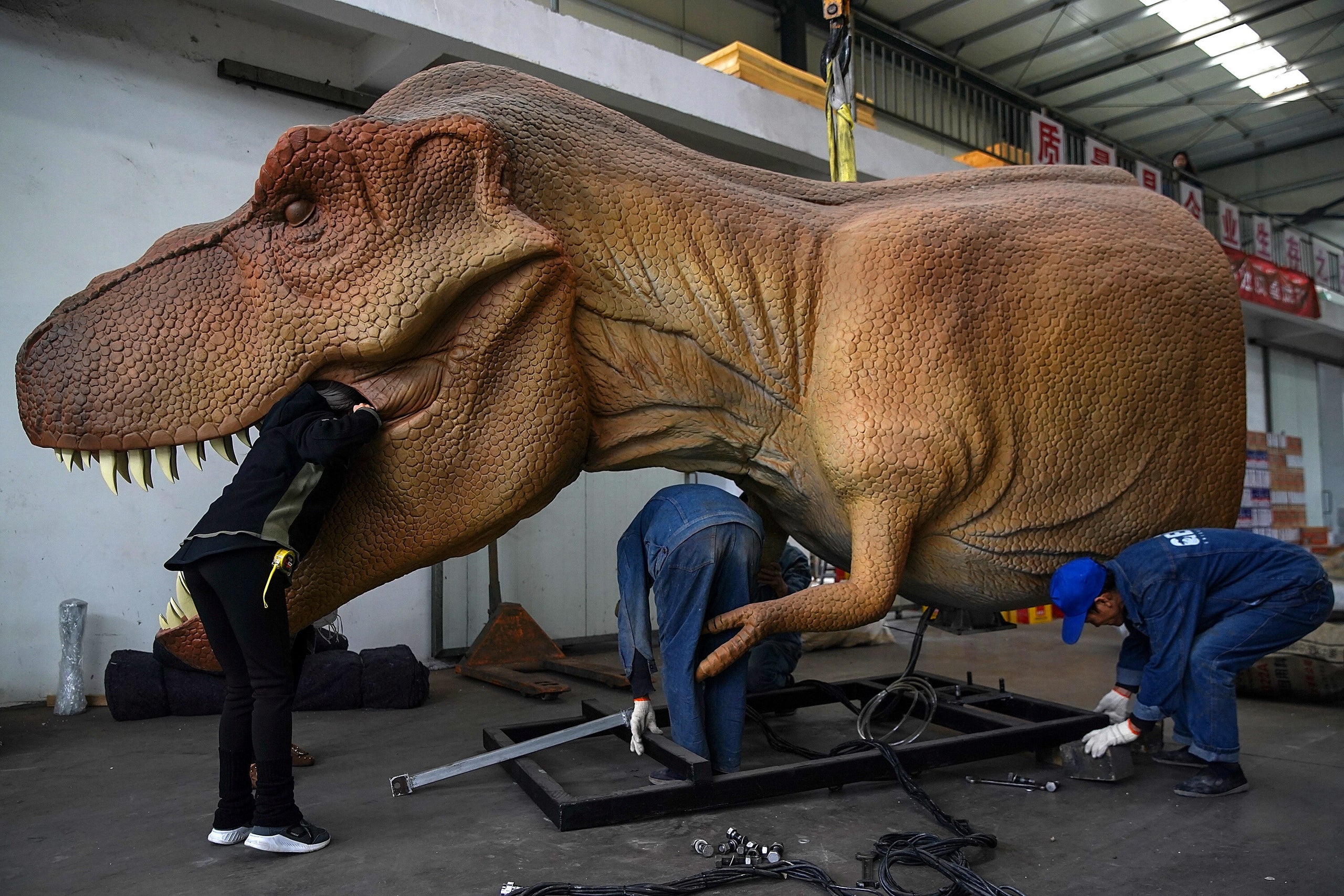 Workers maintain an animatronic dinosaur at the Gengu Dinosaurs Science and Technology company on Nov. 13, 2019, in Zigong, Sichuan Province, China. There are hundreds of simulated-dinosaur manufacturers in Zigong, accounting for 85% of the world's production.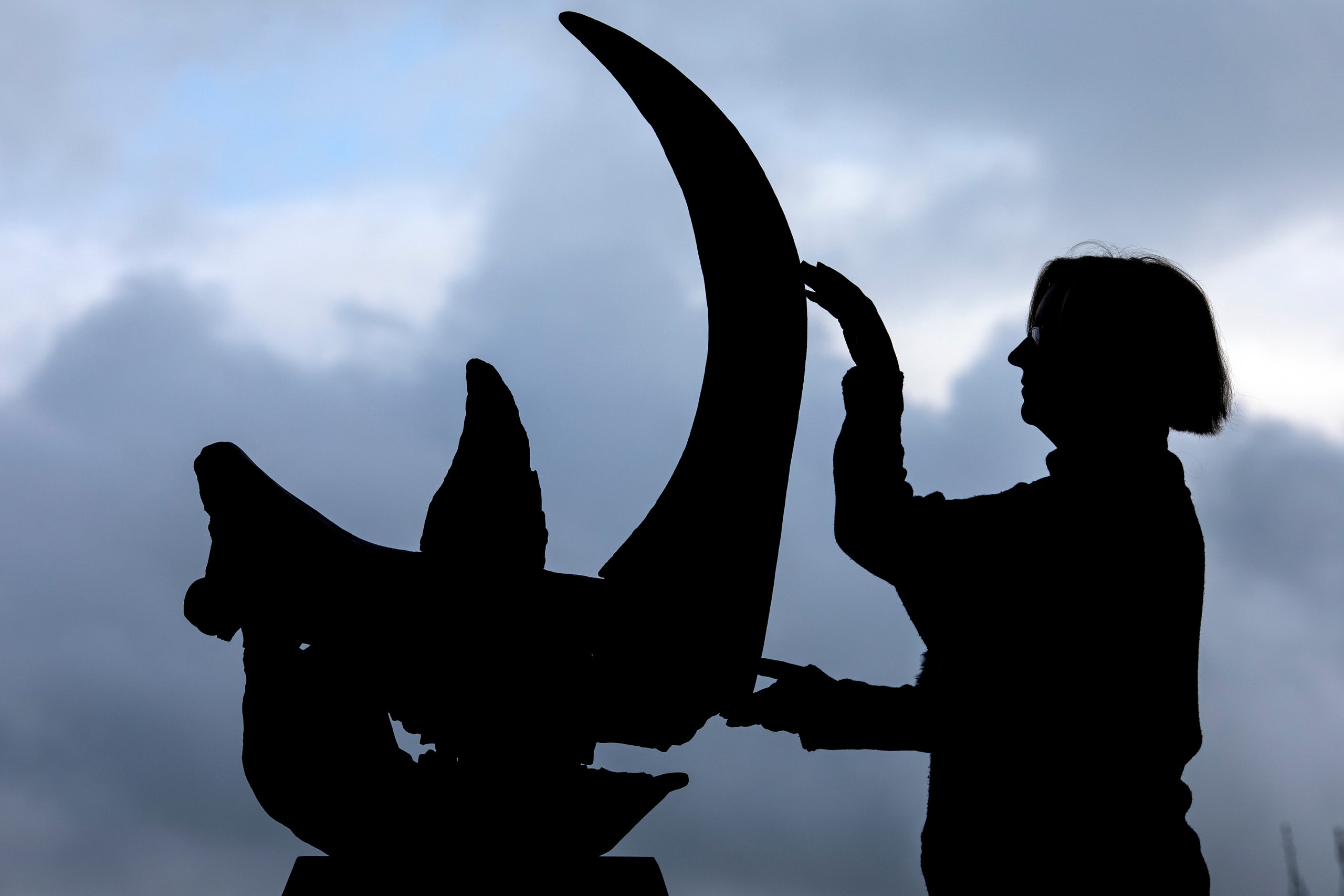 Silke Lohmann poses beside a wooly rhinoceros skull during a press preview at Summers Place Auctions on Nov. 14, 2019, in Billingshurst, England. The piece makes up part of a collection, including taxidermy and dinosaur skeletons, that will go up for sale on Nov. 19.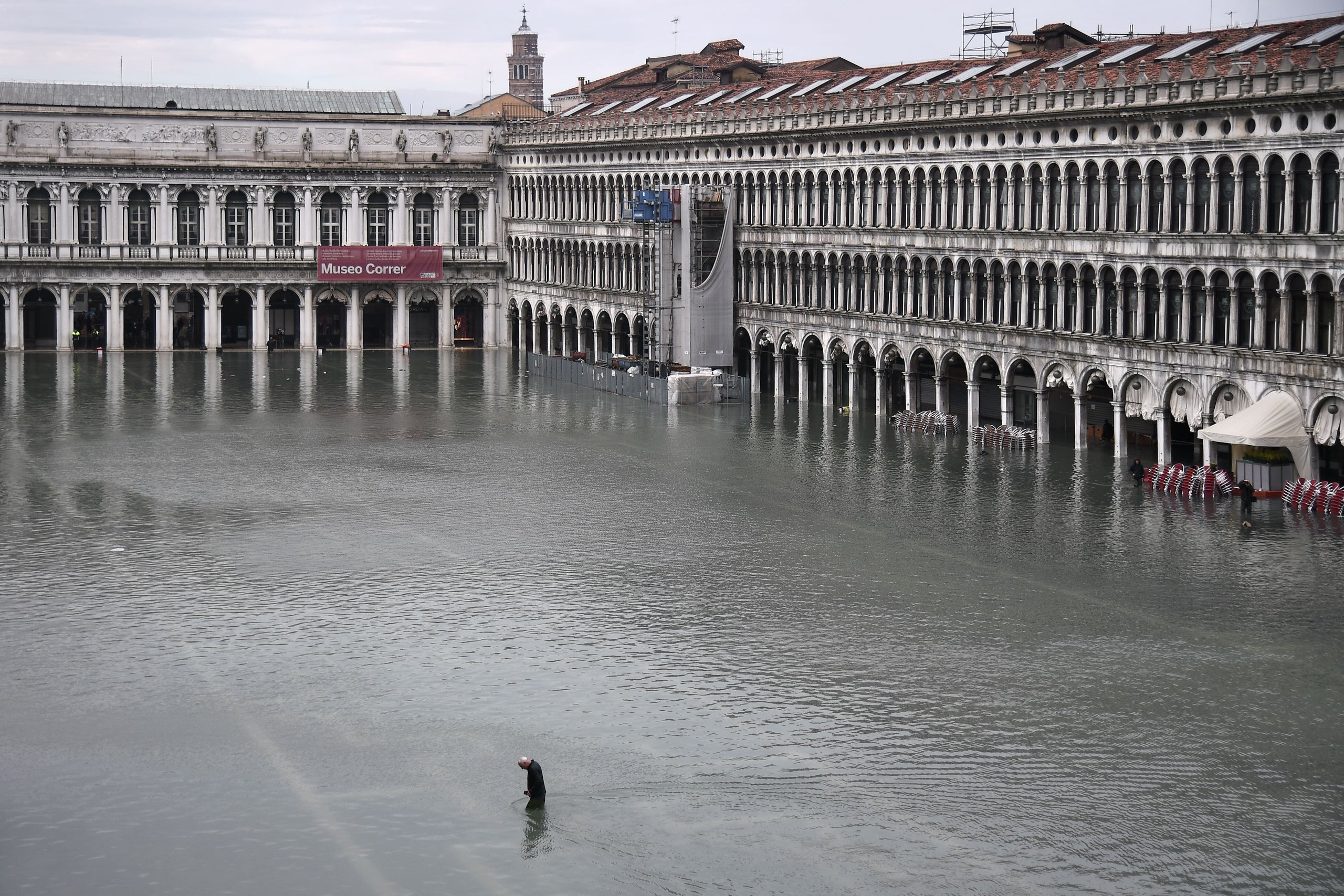 A man crosses the flooded St. Mark's Square in Venice on Nov. 13, 2019, after an exceptional overnight "alta acqua" high tide water level.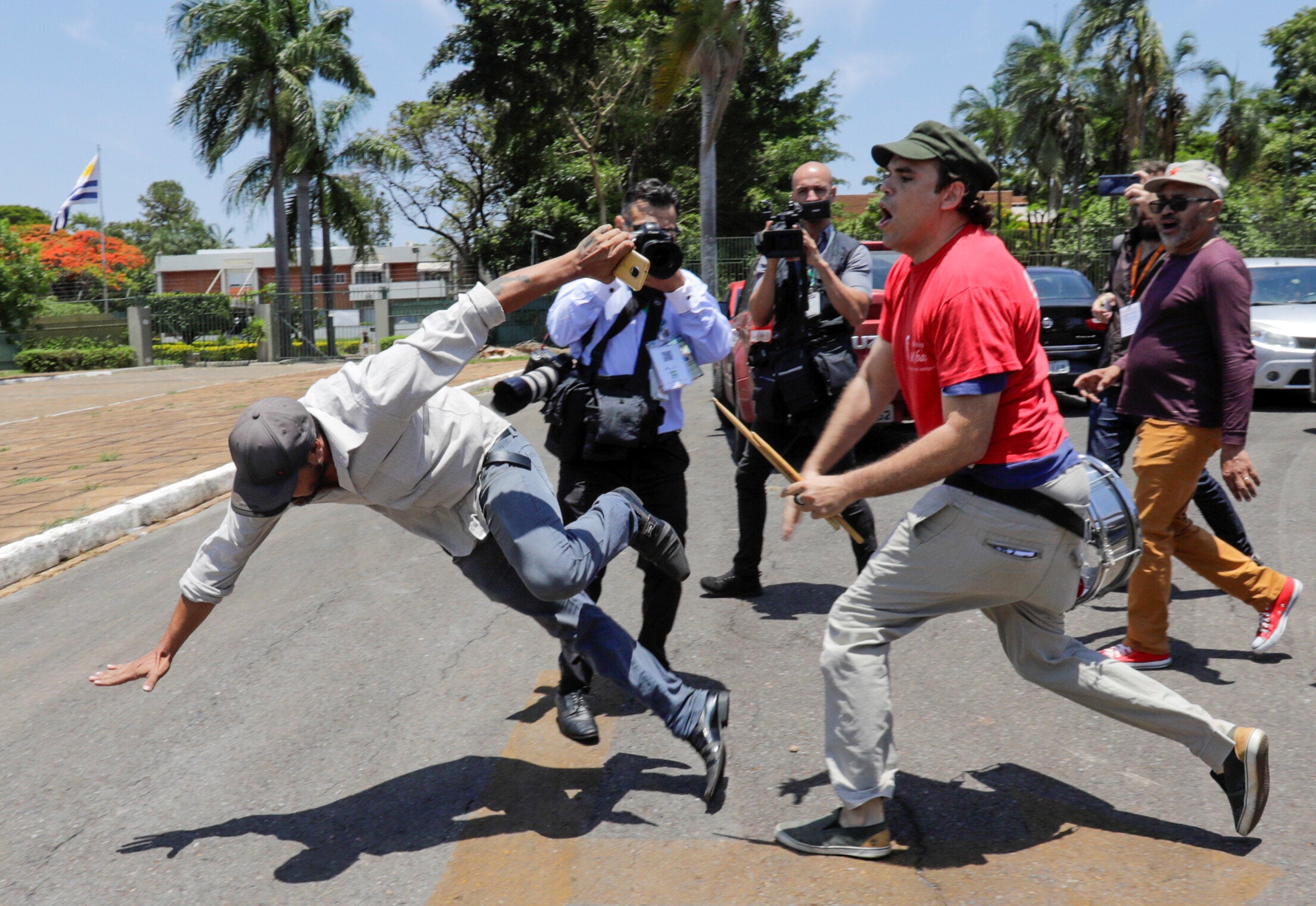 A supporter of Venezuela's President Nicolás Maduro fights with a supporter of opposition leader Juan Guaidó outside the Venezuelan Embassy in Brasilia, Brazil, on Nov. 13, 2019.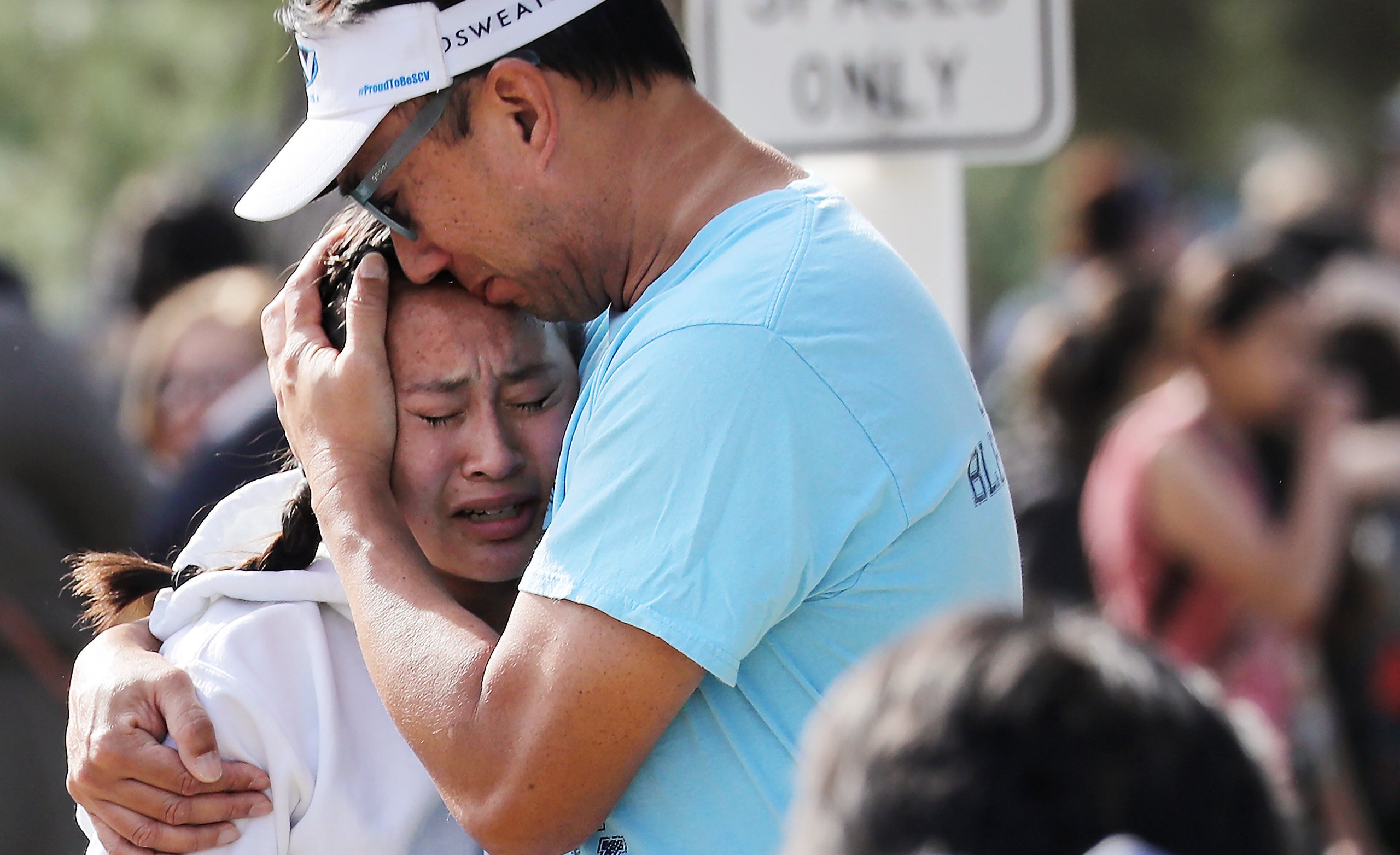 A father hugs his daughter after being reunited at a park near Saugus High School, where a shooter killed two students and wounded three more on Nov. 14, 2019, in Santa Clarita, California.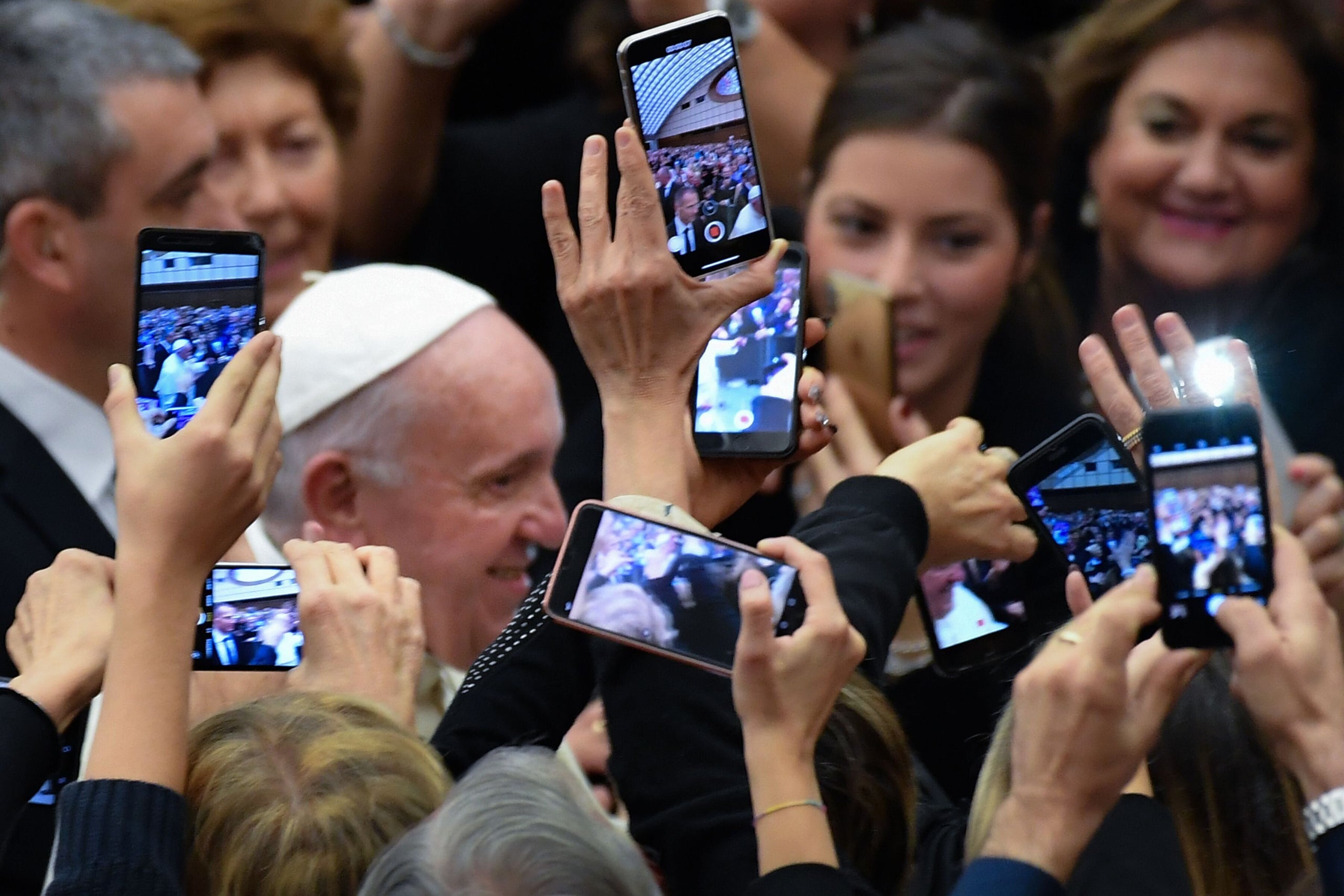 People take photos of Pope Francis with their smartphones as he arrives for an audience at the Vatican with students and teachers of Rome's LUMSA Catholic university on Nov. 14, 2019.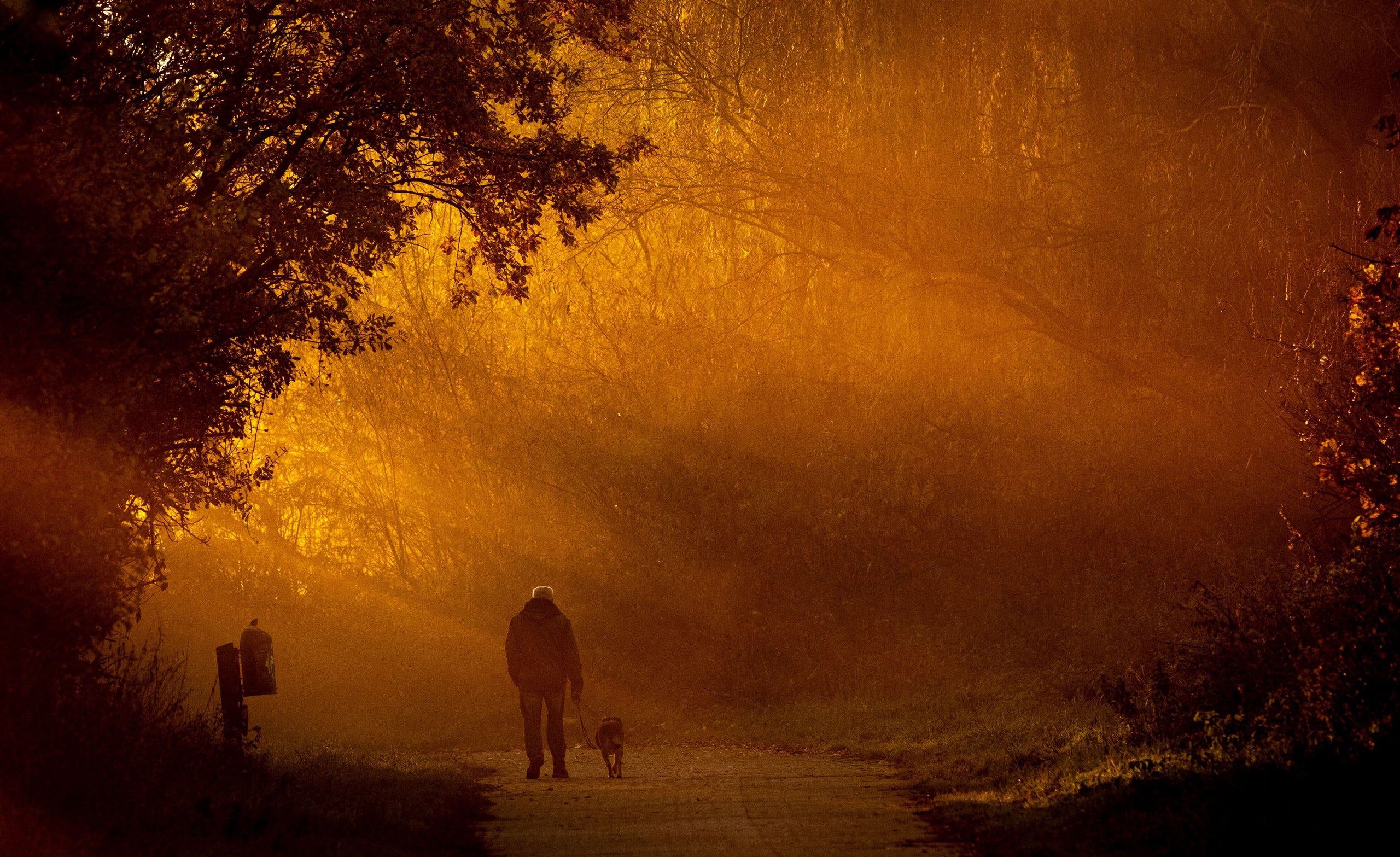 A man walks a dog as the sun rises in Hanover, northern Germany, on Nov. 14, 2019. 
REAL LIFE. REAL NEWS. REAL VOICES.
Help us tell more of the stories that matter from voices that too often remain unheard.