A new criminal investigation is to take place into the deaths of hundreds of patients who were given "dangerous" levels of painkillers at a hospital.
An inquiry found 456 patients died after being given opiate drugs at Gosport War Memorial Hospital between 1987 and 2001.
A review has since been carried out by Kent and Essex Police to assess if there was "sufficient new evidence".
Relatives have been told a "full investigation" will begin.
Three previous investigations into 92 of the deaths by Hampshire Constabulary resulted in no charges being brought.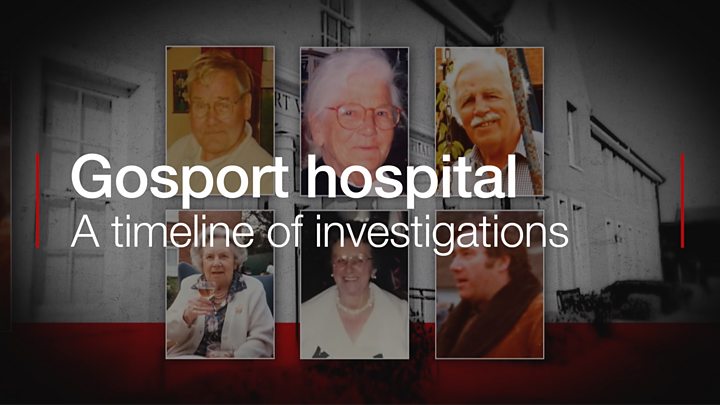 Assistant Chief Constable Nick Downing, head of serious crime at Kent and Essex Police, met relatives at a meeting in Fareham.
Speaking at a press conference afterwards, he promised a "thorough and independent" investigation with a range of offences, including murder, to be considered.
He said police would not be interviewing hospital staff but meeting families individually to collect statements on their relatives' experiences of the hospital.
He said a new medical expert panel would also be set up to "prove or disprove the causational link between opioids being administered and deaths".
He said: "We need to look at what is new or different to submit to the CPS. I am satisfied that there is new and different material for us to consider.
"Our investigation does not involve suspects. If we prove the causational link we will move to the next phase."
The investigation is likely to take nine months.
ACC Downing added: "When you spend time with the families, you hear the ordeal they've gone through… you can't help but feel the pain and suffering. As you listen your heart potentially just breaks.
"I absolutely understand there is mistrust. I walk into that room and it's palpable, that mistrust in my organisation and me."
In a statement read on behalf of the families, Bridget Reeves, whose 88-year-old grandmother Elsie Devine died in the hospital in 1999, said there had a been a "cover-up culture" surrounding previous investigations.
She said: "We challenged and we challenged when we saw the corrupt evidence that so-called experts had submitted but the CPS slammed the door shut in our faces.
"This immoral disaster was perpetuated by a club culture … officials protected each other.
"Our loved ones were killed and our lives destroyed."
Ian Sandford, whose mother also died in Gosport, added: "Frustration doesn't even come near. They should have sorted this out a long time ago.
"All I want to hear is a good result."
Peta Birmingham, whose grandmother Gladys Richards died, said her family were "as pleased as we can be" about the new investigation.
She said: "After all this time you can understand why the families are distrustful of the process, having already endured three police investigations. We hope it'll be different and it will reach its rightful conclusion."
Gosport MP and health minister Caroline Dinenage said she hoped families would "get access to the truth".
She said: "I know that some families would prefer a much faster conclusion. I also have many constituents who've worked at the War Memorial Hospital past and present, with great professionalism and integrity.
"That's why it's important that the investigation is done with the utmost care and thoroughness."
The Gosport Independent Review Panel report, published in June 2018, found there was a "disregard for human life" at the hospital.
It also found an "institutionalised regime" of prescribing and administering amounts of opiate medication that were not clinically justified.
The report said the quality of previous police investigations had been "consistently poor".
It found whistleblowers and families were ignored as they attempted to raise concerns about the administration of medication on the wards, which was overseen by Dr Jane Barton.
Dr Barton retired after being found guilty by a medical panel of failings in her care of 12 patients at Gosport between 1996 and 1999.
In a statement last year, Dr Barton said she was a "hard-working doctor" who was "doing her best" for patients in a "very inadequately resourced" part of the NHS.