Children aged 11 and under will no longer be allowed to head footballs during training in England, Scotland and Northern Ireland.
The new football association guidelines also put limits on how many heading sessions older children should do.
It follows Glasgow University research that showed former footballers were three-and-a-half times more likely to die from brain disease.
The guidance, which will not yet apply in Wales, will affect training only.
The Football Association of Wales said its guidance for coaches on children heading the ball was currently under review with the findings being made available later this year.
In a joint announcement from the FA, Scottish FA and Irish FA, coaches were advised that there should be "no heading in training in the foundation phase" – which covers primary school children, or under-11 teams and below.
There are also new rules for age ranges up until 18, with headers being kept a "low priority" and gradually becoming more frequent in training until the age of 16.
There will be no changes to heading in youth matches, where the FA said headers are rare.
The University of Glasgow study, published in October last year, found that former professional footballers were more likely to die of degenerative brain disease – and five times more likely to die from Parkinson's disease.
There was no evidence in the study that linked incidences of the disease with heading the ball, but the FA said the new guidance had been issued to "mitigate against any potential risks".
Updated heading guidance
The heading guidance covers training for all age groups between under-six and under-18
No heading in training in the foundation phase (primary school children)
Headers will gradually get more frequent in training, for example under-12 teams will be limited to one session a month with a maximum of five headers, while under-13 age groups will have one session a week
The rules also advise not to over-inflate the football when introducing heading in training, instead using the lowest pressure allowed
The guidance also sets out required ball sizes for training and matches for each age group
FA chief executive Mark Bullingham said: "This updated heading guidance is an evolution of our current guidelines and will help coaches and teachers to reduce and remove repetitive and unnecessary heading from youth football.
"Our research has shown that heading is rare in youth football matches, so this guidance is a responsible development to our grassroots coaching without impacting the enjoyment that children of all ages take from playing the game."
Dawn Astle, who has campaigned for changes in rules over headers, told the PA news agency she was "pleased" and that it was "sensible" following the research.
Ms Astle's father Jeff, who represented England at senior level and also played for West Bromwich Albion, died in 2002 from chronic traumatic encephalopathy. The coroner ruled his death was caused by the repeated heading of footballs.
Ms Astle added that there should now be guidelines for training for footballers aged 18 and over.
But former Tottenham Hotspurs and Wolverhampton Wanderers midfielder Jamie O'Hara said on Twitter: "Heading a football is a skill that is essential to becoming a footballer, how do they propose they learn this if [they're] not allowed to head a ball?"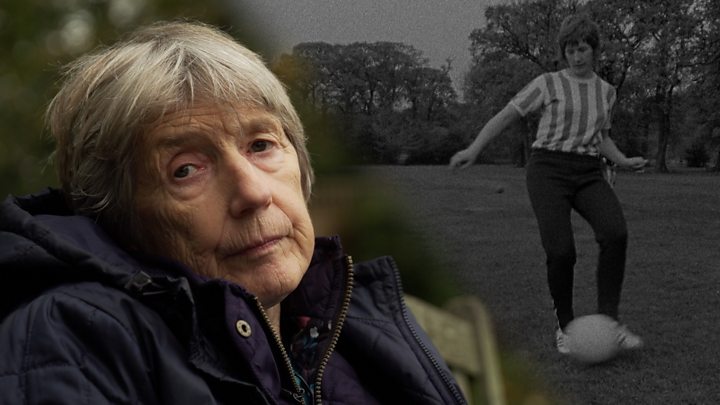 Speaking about Monday's announcement, Scottish FA chief executive Ian Maxwell said Scottish football had a "duty of care" to young people and those responsible for their wellbeing.
"The updated guidelines are designed to help coaches remove repetitive and unnecessary heading from youth football in the earliest years, with a phased introduction at an age group considered most appropriate by our medical experts," he said.
Irish FA chief executive Patrick Nelson said: "Our football committee has reviewed and approved the new guidelines. As an association we believe this is the right direction of travel and are confident it will be good for the game, and those who play it."
'More research needed'
Dr Carol Routledge, director of research at Alzheimer's Research UK, said "limiting unnecessary heading in children's football is a practical step that minimises possible risks, ensuring that football remains as safe as possible in all forms".
She called for more research "in order to unpick any link between football and dementia risk but until we know more, making sure the nation's best-loved game is played as safely as possible is a sensible approach".
Dr Willie Stewart, the consultant neuropathologist who led the University of Glasgow study, said he was "encouraged" to see the new guidelines.
He added: "A lot more research is needed to understand the factors contributing to increased risk of neurodegenerative disease in footballers. Meanwhile it is sensible to act to reduce exposure to the only recognised risk factor so far."
However, Dr Stewart added that he would like to see the new guidelines adopted by the wider game and not just in youth football.
A similar ban, that also includes restrictions during matches, has been in place in the US since 2015.
The rule change there came after a number of coaches and parents took legal action against the US Soccer Federation.